Our DSP fire-fighting couplings
Pathel Industrie offers a full range of DSP / AR fire-fighting couplings. These couplings have been created for solving sealing problems relating to hose coupling used by fire-fighters.  DSP is a quick-release symmetrical coupling, hence there is no difference between the male and the female.  The two hoses to be coupled have two half-couplings and can be unwound in both directions.
The half-coupling has a lip seal which provides sealing, reinforced lugs for better resistance to impacts, and a 2-rise locking ring, each rise having a raised surface. No spanner is required for locking because the notched lock can be tightened by hand. The lugs of these fire-fighting couplings have an oblique smooth shoulder providing good sealing.
This a non-return coupling which indeed prevents coupling separation during vibration from pumps or under hose torsion.
These couplings are especially mounted on fire-fighting hoses, and also, e. g., on motor-pumps.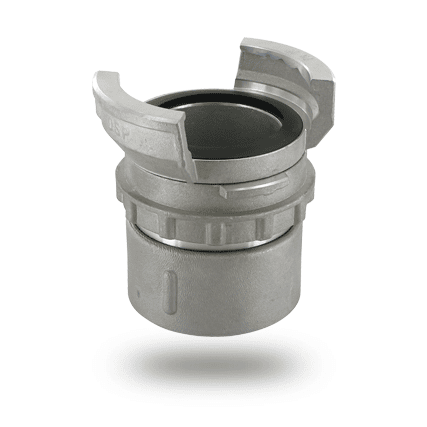 Conformity with manufacturing standards
NF S61-704 for DN40 and DN65 dimensions.
NF S61-705 for DN100 dimensions.
Fields of application
Fire-fighting 
Recommended materials: bronze, aluminium