Pathel Industrie quality
Quality is at the heart of the concerns of our teams. Every department participates in its way in promoting and cultivating product quality and makes sure of it its on-time reception, everything at competitive prices.
We know that the cost of a quality issue on a coupling can be a great deal more expensive than the unit price of the latter. We have thus strict in-house procedures, and demanding quality control. Our quality management system implemented in 2011, our ISO 9001 certification: 2008 obtained in 2012 for our trade activity in industrial couplings and stainless steel corrugated hoses manufacturing illustrates our willing to continuously improve.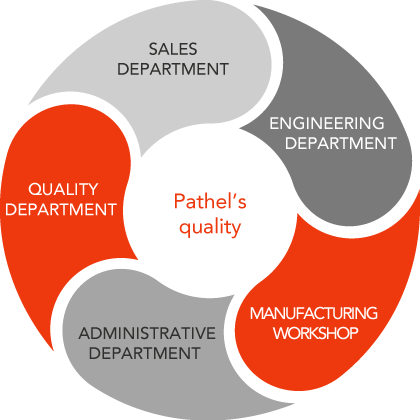 Quality department
If we can offer our customers the best quality/price ratio on the market, it is because we know their needs to perfection. Our product identification is the guarantee of this quality. Our couplings meet strict, detailed, demanding technical specifications. To meet the most specialised and technical requirements, we integrate our own manufacturing.
The demands of our teams is to follow the technical specifications supported by a policy of merchandise acceptance inspection.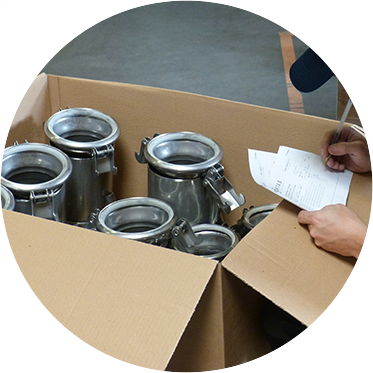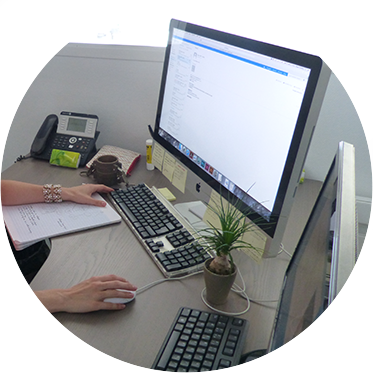 Sales department
Our sales department is the first contact for our customers. For our customers, it is a dedicated regional discussion partner, technical expert trained in-house. Any technical sales representative at Pathel Industrie relies on reliable logistics, high-performance management tools, real-time access to stock, and an engineering department providing appropriate answers. Our technical sales representatives are confident, flexible and quick to react, working in close relation with the most complex needs and requests. Almost 93% of our orders are delivered within deadlines confirmed by our sales teams, which makes our customers loyal.

Engineering department
Quality stays in the manual activities and the daily work of Pathel Industrie teams. Our engineering department knows better than anybody how to recommend the most appropriate assemblies for our customer technical specifications. We emphasize our quality policy through the ISO 9001 certification and the application of standards, CE, DESP, TMD, PED, etc. Be demanding!
The quality department and the engineering department acting together are able to draw up technical specifications starting from nothing, depending upon your field of application, to look for the best recommendation in terms of longevity and safety, to undertake the management of all certificates, tests, TMD [Transport of hazardous goods], DESP. We have the in-house expertise for designing custom-made plans.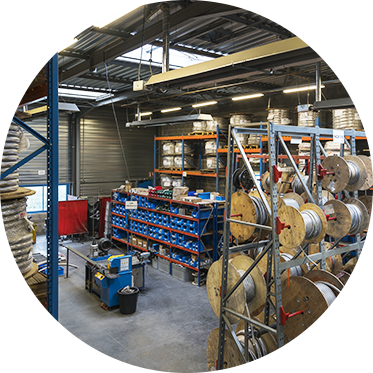 Manufacturing workshop
At Pathel industrie, the workshop is above all, an experience acquired over decades.
Highly qualified teams, experienced hands, and the sense of work well done.
Our teams have two main skills:
Custom-made valves
Stainless steel corrugated hoses
DMOS-certified by The Welding Institute, our welders are trained and followed-up in-house. Our teams use QMOS methods validated with our partners. The welding workshop and all our services have been optimised for better performance.
The workshop also means Pathel industrie hoses, side by side products, and constant flow. We had to model the whole in order to optimise our manufacturing. Goal, 100 % reliability and perfectly sealed hoses.
Here, we can provide traceability for our components, test our hoses on a hydrostatic test bench or for helium leak detection.
This organisation is at the origin of almost 73% of orders for hoses delivered within 48h.
The workshop also means teams ofexperienced warehousemen able every month to manage over 6,000 references and 600 packages for shipping.
The challenge is, 0 errors.
To achieve that, we need a powerful organisation which includes location management, non-conformity monitoring, dashboard, productivity in constant progress, improved and advanced right to the labelling of packages and items.
When our customers easily receive their goods, our warehousemen are behind all this.

Administrative department
Everyday life at Pathel Industrie follows the rhythm of our customer orders, and between each of them, the administrative teams make the link between the company and the outside, digitize or materialise data and exchange flows, often being the official voice of the company.